PART I:
Once upon a time, there was a young, naive dancer girl (spoiler—me). She was headed out to explore the world while performing onboard a cruise ship. A true dream come true! There was just one thing that could make her dream job eeeeeeven better…
…If her world travels launched her into INTERNET STARDOM–ARDOM-Ardom-ardom…
The young, naive dancer girl wanted to start a travel blog and document all of her amazing stories, photos, and travel moments for the internet to go "Daaaaamn girl!"… So that's just what she did.
PART II:
WOOSH [that's the sound of two years going by]
The now older (only slightly less naive) dancer girl started that blog, an adorable little thing using the VIRB platform. She had a charming little following of spam bots from India. Every three weeks, she went through an assortment of color schemes and poorly-designed headers, telling herself she just needed "a new look and a fresh start!" She did all this from the lonely confines of a cruise ship. Over the course of those two years, she posted approximately 14 times. Her posts got more and more melodramatic, with titles like "Finding Myself Again in Aukland, New Zealand" (face palm). Even her family had a hard time getting through them.
LESSON: Don't be this poor, naive dancer girl.
PART III:
WOOSH [What's that?! More time passing!]
The dancer girl has wizened up (finally, amiright!). She invested in the "Superstar Blogging" course by Nomadic Matt. This online course and community helped her little corner of the web not look like such a hot mess. She's now the proud owner of a WordPress blog and a dot-com site. She knows elementary coding, and the basics of crafting readable, shareable content…sorta… She's designed herself a sweet little brand identity that still allows her to talk about dance, take too many pictures of her coffee, and (occasionally) be melodramatic. She understands how bloggers make money, and their role in working with brands. She's slowly stumbling through promoting herself on social media (but to be honest it still feels kinda weird.)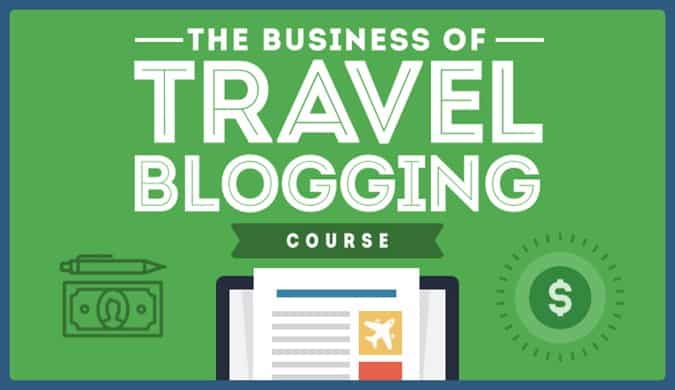 The dancer girl is by no means an internet sensation (probably never will be, but that's not her goal anymore!). However, she's well on her way to becoming a respectable travel blogger (whatever the fuck that means).  The supporting community of "Superstar Blogging" agree! (That's right, Indian spam-bots be gone! She's got REAL followers now…sorta.)
---
So let's not forget, that dumb dancer girl was is me.
I did that.
Two years of frustrating, futile attempts at blogging before I realized I needed HELP, in the form of direction, motivation, and inspiration. It's tragic for me to think about those pathetic years, but DON'T BE ME! If you're a new travel blogger considering sharing your travel stories online, I'm here to give you the final kick. Do it! The community of people who lap up travel stories online are a welcoming and supporting. But, it takes some know-how in blog building so that your stories don't go unseen.  is the foundation you need in order to build a legitimate blog that more than just your kin will click through.
Click on anyone of my "Superstar Blogging" links/pictures and you'll be taken right to their website. If you buy the course during your visit, I get a modest percentage of what you pay for the course (umm THANK YOU! Remember that $240 I spent on that sad VIRB site?… Still digging myself out of that one).
Again, I can't emphasize enough what a necessary investment this course is for the health and longevity of your blog. And if you truly don't garner anything from the course (impossible) you have the added benefit of having access to an amazing (and enormous) community of fellow bloggers who just LOVE sharing travel content.
Happy Travel-Blogging! Look forward to reading your content!